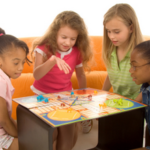 It's summer. If you have the privilege of being home with your kids, you are going to hear plenty of "I'm bored!" in the next few months. Here are some educational activities to give your kids to stave off the boredom when it hits and promote summer learning.
1. Plan a Garage Sale
"I'm bored" often comes with a request to do some expensive activity, like head to the water park or amusement park. If funds are lacking, or you simply want to teach your kids the value of a dollar, plan a garage sale together. Yes, a lot of the work for this will fall on your shoulders, but you'd be surprised how much kids can learn from this common summer activity.
What can your kids do for the sale? Have them:
Make signs for advertising
Help choose the newspaper advertisement
Count the money
Count out change
Help customers find things
The learning potential for this activity is huge, and, as an added bonus, you all just might earn a few dollars.
2. Plant a Garden
Gardening is hands-on learning at its finest. Math and science both come into play with a garden. You can go as big or as little as you want with this activity. A small container garden can provide the same level of enjoyment and learning potential as a large vegetable garden. Work with your kids to teach them about plants, pests, helpful insects and weeds as you watch the garden grow and thrive.
3. Put on a Play
Drag out the dress up clothes, or mom's old dresses and dad's old suits, and have your kids put on a play. They will need to work together to write a script, cast the characters and prepare for the actual performance. You can offer to video their final production so they can see it for themselves, or have them offer tickets, for free of course, to neighborhood kids to come and watch. This will teach social skills, writing and planning.
4. Make Homemade Bubbles
With homemade bubbles, your kids can experiment with all sorts of bubble wands. While they may not directly learn science facts, they will be learning through their experience. When they come to learning about bubbles, surface tension and spheres in school, they will have a personal experience to draw from. Here is the recipe for homemade bubbles:
6 cups water
1/2 cup blue Dawn dish soap
1/2 cup cornstarch
1 TBSP baking powder
1 TBS glycerin (available at the pharmacy)
Dissolve the cornstarch in the water as well as you can, then add the ingredients. Stir slowly so you do not create a froth. Allow to sit for at least an hour. If you notice the corn starch settling, stir gently. Some settling will occur, and should not impact the quality of your bubbles.
What are your favorite summer boredom busters?