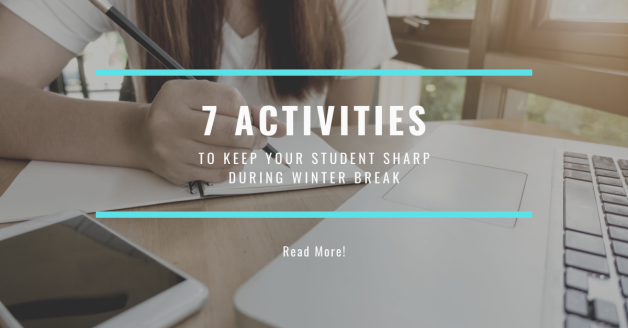 Winter break is approaching and that means kids are counting down the days until they get a break from school. Even though winter break is much shorter than summer break, kids can still lose important information over the holidays. Keeping their minds engaged during break will help them prosper when they return to school in the new year. Read on to find some of the best activities to keep your student sharp over winter break.
Read Together
Reading isn't just an activity for school. Taking time to read together over winter break will help keep your student's mind sharp while improving their reading comprehension and vocabulary. Introduce new books so they can go back to school with a larger vocabulary and better reading skills.
Cook Together
While it's not an activity you'd think about when trying to come up with ways to keep your student sharp, cooking is a great way to keep their minds engaged over winter break. Measuring spoons and cups will help your student with fractions and the recipe will keep them reading over break. They'll also learn how to follow directions which is beneficial for more than just school!
Make Car Rides Fun
If you're traveling for the holidays, long trips are a boring experience for children. Turn the car ride fun while keeping the learning going by playing fun games as you travel. You can find printables online for games such as license plate bingo or simply ask them to count all of the white cars they see from one point to another. Try to find every letter of the alphabet on the license plates of cars that pass by!
Bedtime
Winter break means later bedtimes, right? While letting your child stay up an extra hour won't make too much of a difference, maintaining a reasonable bedtime will help keep their minds sharp over the break and keep their bodies in gear for returning.
Visit a Museum
If it's too cold or wet to go outside and play, kids may get antsy over winter break. Take a trip to your local museum or zoo so children can learn about history or animals. They'll also learn about respecting their environment and other living creatures.
Go Handmade
Hit up your local craft stores or even a dollar store and grab some supplies for your kids to make handmade gifts for relatives. As they watch their creations come together, their imaginations will be running wild with creativity.
Stay Active
With the holidays comes tons of food and sweets. While you may want to just lounge around during winter break, physical activity not only promotes good health but will also keep your student sharp. Put the movies away and try some yoga or come up with a new dance.
Keeping your student sharp over winter break can benefit them when they return to school in the new year. Students tend to forget things quickly and by not stimulating their mind, they could lose out on valuable information they learned during the school year. Keep their minds sharp by engaging them in activities such as reading together or baking together. Visit a museum during their break so they can learn about history. It's also important to maintain a good bedtime and stay active during the break. However you choose to do it, your student will benefit when they return to class.