Christmas break is just around the corner. With a few weeks to have your kids home, or a few weeks of anxious kiddos in the classroom who are struggling to stay focused, it's time to pull out some educational Christmas games. Here are some ideas that work well at home or at school to keep the kids engaged and learning, while also having some fun.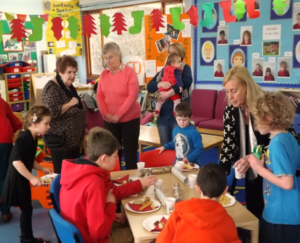 Stocking Guessing Game
Teach your kids to use all of their senses, not just their sense of sight, with this fun game. Place items the kids will be able to recognize into stockings, and seal the ends closed, one item per stocking. Then, let the kids smell, touch, listen to and otherwise explore the stocking to guess the item. The only trick is that they cannot use their eyes.
Writer Christmas Letters
Whether letters to Santa or letters to grandma to say "thanks" for a gift or Christmas treat, writing letters at Christmas time is a great way to practice penmanship, grammar and overall writing skills. While not a game, per se, it can be made to be a little fun, and it is a festive part of the season.
CHRISTMAS Spelling Game
Using the word CHRISTMAS, have the kids come up with as many words as they can spell using just those letters. If playing in a classroom, create two or three teams, and the team with the most words wins. If playing at home, the player with the most words wins. Consider setting a time limit to the game.
Christmas Themed Computer Games
Get into the holiday spirit when playing computer games with Christmas themed computer games. TopMarks has several that are excellent options for kids of all ages. Christmas Maths works on everything from matching numbers to simple addition and subtraction for younger learners, while Christmas Tree Coordinates helps teach the coordinate plane in a fun drawing game.
These are just a few examples of ways you can bring fun into your holiday learning. For additional ideas, the Swan Learning Center is here to help. Give us a call to talk about learning over Christmas and our holiday tutoring options.