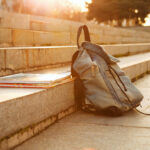 Summer is drawing to an end. Many summer school and summer enrichment programs are ending as schools get prepared to welcome students and parents start shopping for school supplies. For some students, this can mean an increase in anxiety as they wonder what to expect from new teachers, new peers and new experiences. If you notice your child showing signs of anxiety, here are some tips that can help.
Teach Your Child to Vocalize Feelings
Keeping stress bottled up inside is never healthy. Teach your child to express emotions verbally. Be understanding of the stress that your child feels, and do not dismiss it. By listening and validating your child's feelings, you will be able to help alleviate some of that stress.
If your child does express a fear that you can help with, do what you can to help. Perhaps your child fears the new teacher. Find out who the teacher is, then learn what you can about her. Maybe your child fears another student at school. Find out if there is a bullying situation, and if not, give your child coping techniques to help deal with mean kids. If your child fears not being able to handle the workload or perform well, consider a few enrichment or tutoring sessions to help.
Get Enough Sleep
Summer is notorious for late nights. That's fine, but with school coming it's important that your child gets enough sleep. Start making bedtime a routine, and ensure that your child is getting a sufficient amount of sleep. Well-rested children will be better equipped to handle the stressful feelings they experience.
Encourage Proper Exercise
Exercise releases endorphins, those feel-good hormones that make you feel great after a hard workout. Kids can benefit from endorphins too. If your child has been spending a lot of time indoors or on video games over the summer, you need to send him outside. Some regular exercise will help alleviate stress.
Teach Stress Relief Exercises
Deep breathing and visualization techniques can teach kids how to deal with stressful feelings when they come. Teach your child to breathe in and out slowly when he starts to feel stressed. Help your child visualize himself on a quiet beach, hearing, smelling and seeing all of the sights and sounds of this location. These techniques can reduce the stress response and give your child the ability to cope with the potential fear he is facing.
Stress is a very real thing for many kids. If your child is facing some back-to-school stress, do what you can to help. You just might make those first few days a little easier to handle.