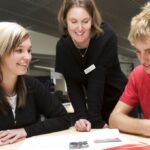 The key to success in school for many kids is involved parents. When you know what is going on at school and how your child is handling various subjects and social situations, you are setting the stage for success. This requires a good connection between you, as the parent, and your children's teachers. That connection can be made at parent-teacher conferences. Here are four tips to help you make the most out of your parent-teacher conferences.
Communicate Openly
Today's kids have to face a lot of stress in their lives, and that stress can impact how well they do in school. A major stress, like a move, divorce or new sibling, can have a tremendous impact on a child's ability to learn. Teachers and tutors can do quite a bit to help, but only if they are aware of what is going on.
Because of this, your child's teacher or tutor needs to know what is going on at home. When you meet with the teacher, open the lines of communication, and let the teacher know what is going on at home that could be creating strong emotions or stress in your child.
Ask for Insight
Ask the teacher detailed questions, like:
What are my child's strengths and weaknesses in school?
What do we need to work on at home?
How is behavior affecting my child's ability to learn?
What do you need from me?
Then, pay attention to the answers. Whenever possible, implement the teacher's suggestions.
Create an Action Plan
Every child, even the most gifted child in the classroom, can be encouraged to push a little harder or do a little better. Whether your child is excelling or struggling, work with the teacher at the conference to create an action plan. Set goals, then decide on actions you can take together to reach that goals.
The plan may involve getting some outside tutoring help from a Charlotte learning center, or it may simply be a plan to encourage a bright student to work a little harder in one area. Whatever plan you come up with, follow up on your end to ensure your child is successful.
Stay in Touch
After the conference, create a system that allows you to stay in touch with the teacher. Regular written or emailed communication to check on how your child is doing is a great idea. While you don't want to bombard the teacher with constant communication and comments, regular, infrequent communication is helpful and appreciated. By doing so, you will show your child's teacher, and your child, that you value education and want to see your child succeed.
Remember, the parent-teacher connection is crucial to your child's learning success. Take the time to build some bridges with your child's teacher, and your child will reap the benefits.