Playing games as a family can be a relaxed and painless way to build math, reading and writing skills. When done correctly, educational games can be light-hearted and fun. It is easy to find games touted as being educational, but not all educational games appeal to children. A weekly family game night builds educational skills, but also strengthens family bonds and creates lifelong memories.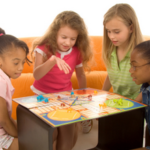 Games that use dice and tiles have been in existence for thousands of years. While they may have originally been used for gambling, modern versions of these games are fun ways to practice math skills. Farkle and dominoes are simple, yet engaging math games, which are especially appealing to tactile learners.
Video games are often dismissed as a waste of time. However, video games can build confidence since difficult aspects of a game can be repeated until a child mastered it. Video games can improve reading and math skills as well as encouraging cooperative play.
Lego games based on popular movies and characters, for example, are an excellent choice for children of mixed ages and gaming skills. The Lego games prominently feature puzzles, exploration and cooperation between the players and characters. As a character works through the game, they earn Lego studs that can be used to purchase new characters and other in-game items. Game play is easy enough for small children to master and engaging enough to keep adults entertained. The Lego games include Harry Potter, Star Wars, Lord of the Rings, Batman and Indiana Jones.
Smartphone and tablet apps such as RhymieStymie, a clever rhyming word game, and Chain of Thought, a deceptively simple word association game, build reading and spelling skills. Their unique game structure also encourages creative thinking.
Munchkin is a card game best suited for older children. Filled with funny illustrations and amusing wordplay, the point of the game is to sabotage fellow players while completing the game. The cards drawn determine the outcome of each round. Since each card has specific instructions and can cause a player's level to increase or decrease, Munchkin is surprisingly reading and math intensive. The math is generally limited to addition and subtraction. The cards are interesting to read by themselves and the educational aspect becomes secondary to enjoying the game.